Follow the online trend and rating of VPN base on performances and User experience, you may rarely come across ProtonVPN on TOP FIVE VPNs. But sincerely speaking ProtonMail and other premium packages are good.
You see Express VPN, Cybargost, IPVanish, etc… on the list, though.
From my research and personal experience with ProtonVPN free account offers secured connections without exposing a user's location or IP address.
On the web, PROTONVPN Free VPN is rated the most reliable and secured online VPN. I'll also testify positively to that. Although, no much access to features!
With their free service users can watch US Netflix, and other unaccessible sites.
So this page we shall be taking about the free account.
The free ProtonVPN provides registered users with 3 Countries, to use only on 1 Device, and as they said on their website (www.protonvpn.com/priccing) that the surfing net Speed is Low on free package.
I haven't come to notice that from my end, anyway.
Understand that for you to start using the free VPN account you have to register with an email address using the steps below.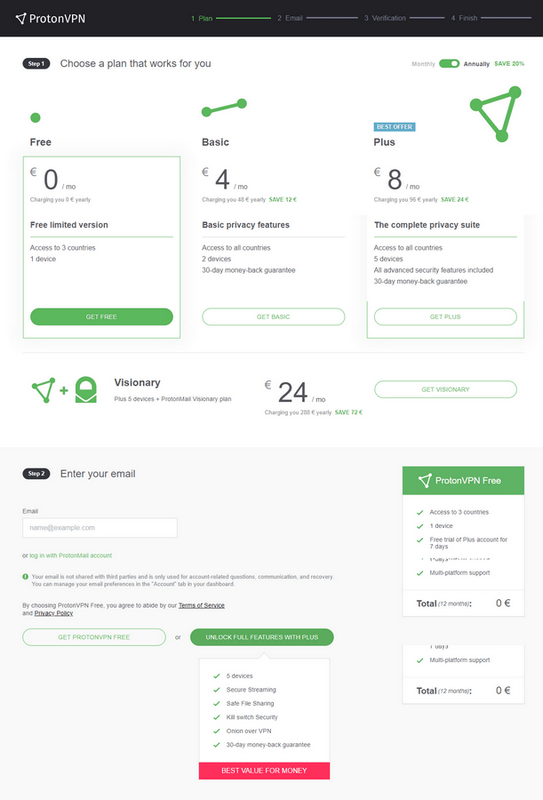 How to Complete Protonvpn Sign Up Free Account
Access the official website on https://protonvpn.com or use the main link (account.protonvpn.com/signup).
Click on "Sign Up" to open package options you will be selecting from.
As we are going for the "FREE ProtonVPN account" so click the "Get Free" button.
scroll down a bit to see a box to provide your email address.
Then click "GET PROTONVPN FREE" On click this, a message containing a verification code or link has been sent to the email address you entered.
Now access your email account, open the message and copy the code, go back that same online ProtonVPN sign up page where you will enter (paste) the code. Though, alternatively still on the same page, you can also decide to provide a valid phone number to Verify your account with a code that will be sent via SMS.
On completing the STAGE #6, this page you'll create a profile account \, so some information about you is required. Choose a username and password to finish this stage. Then click the "Complete" button.
Then you are logged into your Proton VPN account. Now you may click on the button provided to download the App.
Downloading And Installing ProtonVPN App
This should be your next step to start using the ProtonVPN free service after successfully completing the ProtonVPN Sign Up following the guide above.
Note where the folder your download saved, then open the folder, click the ProtonVPN APK app to start the installation.
Follow other steps that prompts to complete this process.
Now you have installed the app and ready to rock it, You have to login using your Proton Username and password (see steps below).
ProtonVPN Sign In Account Page
To login your account, you will only be needing your Username and password.
You also have the ability to reset your login information in case you forgot your password.
Use ProtonVPN on Mobile Phone
PROTONVPN APP is completely available on Android, iOS. To start using the free VPN on your mobile phone you can either visit this link https://protonvpn.com/download/
Or, from your mobile phone, launch the App store and search for ProtonVPN, you should see the official App.
Click to start the download and installation process.
Once the download is completed (on your phone) you also need to sign up or Login using the registered username and password.
Now you can ENJOY the FREE VPN on your mobile phone.
This page was intentionally made for Free ProtonVPN use, but to enjoy faster and secured browsing I advice you go for any premium package – pricing starting from $4 monthly.
I would also love to hearing from you on which other free online VPV do you use and preferred. Use the comment box below.